If I could make a list of things I want to painfully kill, #1 would go to COLLEGE. I have exams next week and I started getting buried under workload three weeks earlier. Which is how I am not getting any reviewing done and doing this acceptance post more than a week later. Morrighan @
Elysian Fields
nominated me and I feel HONOURED, Morrighan, THANK YOU.
I am also enclosing a virtual pizza with SORRY M&Ms and a hug. :)
Rules:
Thank the blogger that nominated you, and link back to their blog in your post.

Post the award's logo on your blog.

Answer the ten question asked by the nominator.

Nominate ten bloggers for the award.

Ask your nominees ten questions.
Morrighan asked me:
What is your favorite book ever? I know, this is a tough one!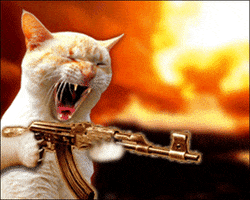 This cat understands my angst
This is not called "tough". PE is tough. Calculus is tough. Doing laundry is tough. Trying to decide whether you want that appetising chef's choice or whether you want to play safe with your regular is tough. Coming up with the right name for your kid is tough. Thinking of a possible plot arc for a book idea you have is tough. Naming my favourite book isn't tough, it's against my principle of being. :P
So I am going to both answer and not answer your question, taking a leaf out of Schrodinger's book. Books I keep recommending to people right and left are:
To Kill the Mockingbird
Harry Potter (Books 1 through 7)
The Book Thief
The Help
Jellicoe Road
Sold
The Mediator series
The Hunger Games series
Most books by Jodi Picoult
….. are some off the top of my head
What book are you most anticipating reading?
The Young Elites by Marie Lu. After Hunger Games there was a parade of dystopian fiction,, out of which I liked Legend best (even though Champion wasn't my favourite way to end the series.) I also read a sneak preview of TYE and had blue balls at the end of Chapter1.
I was also psyched to read The Blood of Olympus but my book buddy advised me against reading it lest I become suicidal and leave a note saying it's because Rick Riordan messed up the series.
What is your favorite genre? Least favorite? Why?
Currently, my favourite is realistic YA and social drama. And anything with a lyrical prose.
Least favourite – anything that features instalove/ less plot – more kissing-more sexual tension-more 18+ scenes/ average chick-lit/bad narration/depthless characters/regular dystopian
What female character do you most relate with?
Uh. Um. Wait. It's going to come to me any minute. Wait, I think… Nope, nothing.
I know. I just had an epiphany myself. I am now going to proceed with the blame game. It's not my fault. Not actively. Books that I like to read are generally depressing (as verified by my book buddy) which feature heroines that have low self-esteem/suicidal/had a best friend who committed suicide/rape victims/apartheid victims … you get the idea. Or they are they are the smart, sword/gun – wielding, mouthy, snarky, beautiful, AMAZING girls that I insanely wish I could be. There is also this unfortunate issue of lack of diversity in books to boot.
But in class when my mind stopped understanding Power Electronics, I suddenly thought of Cath in Fangirl by Rainbow Rowell. After all, we practise the same profession, don't we?
So maybe I blog instead of writing famous fanfiction. Same diff. We are both introverts, shy around strangers, and swoon over anything bookish.
What male character would you most like to spend the day with?
This is almost as hard as Question #1. Aside from book boyfriends (with who I wouldn't mind spending the rest of my sorry life), I guess it would be Magnus Bane (although he is a book boyfriend – the gay one so even fictionally out of bounds). He would show me the right way to use body glitter, take me shopping, introduce me to other Downworlders, Chairman Meow, make my sides hurt from laughing too much, make me eat stuff I wouldn't otherwise eat, … I could go on.
A day with Magnus Bane is a day well spent.
What is your least favorite book you've ever had to review?
One of your favorite books that you feel deserves more attention and praise?
Tell the Wolves I'm Home. The words breathe life into the characters and you just ….
And the title is Just. So. Inspiring. I started off by hating it, and at the end, I was a different person. I keep shoving this book in people's faces and they're like (I've never heard of it.)
The most over hyped book you have read this year is..?
If you could live in one mythical world from a book, which would it be and why?
The JKR version of the wizarding world. Why?
HOGWARTS. ZONKO'S. DIAGON ALLEY. HOGSMEADE. RON'S PLACE. LUNA'S SHOE. SHRIEKING SHACK. HOGWARTS. HOGWARTS. HOGWARTS.
How many books do you physically own, either ebook or physical?
I just have two paperbacks with me at the moment. Before you collapse with disgust, it's because my actual shelf is at home (in another country) and here pages curl with humidity so I keep transporting them home. So, I don't know the exact number of physical books I have.
My virtual shelf contains over 300 (of which I've read only about 200 BUT I HAVE NO SHAME I STILL KEEP ADDING TO IT). That ok, good, bad, or ugly?
And I ask my nominees:
Which author is guaranteed to not let you down with his/her latest release?
Who is your favourite badass heroine?
Name a book or poem you had to read for school that you actively hated?
What is the naughtiest thing you've ever done?
Which poem reaches down inside you and leaves you breathless every single time you read it? (You can skip this question if it's too personal.)
What subject do you think hasn't been explored much in YA literature?
What is your favourite bookish game to play when fans of the same book get together?
Have you written to (or tweeted) any writer asking what happens with the characters in a book? (Especially those books that are left free to reader's interpretation) Did you get an answer?
What is the weirdest food combination you like that the general public think is disgusting?
If you could RJ for an FM for 30 minutes, what would be your playlist?
Like I mentioned before, I am drowning in assignments and unopened textbooks so I really don't have the time (or energy) to comment on blogs (there are people I want to pass this on to). SO NOMINATE YOURSELF. You are brilliant and awesome and inspiring and the bloggerverse welcomes you. Just comment below and we'll fight over fandoms and keep tagging each other.