Melina Marchetta

was born in Sydney Australia. Her first novel, Looking For Alibrandi was awarded the Children's Book Council of Australia award in 1993 and her second novel, Saving Francesca won the same award in 2004. Looking For Alibrandi was made into a major film in 2000 and won the Australian Film Institute Award for best Film and best adapted screen play, also written by the author. On the Jellicoe Road was released in 2006 and won the WAYRBA voted by teenagers in Western Australia in 2008. It also won the US Printz Medal in 2009 for excellence in YA literature. This was followed up by Finnikin of the Rock in 2008 which won the Aurealis Award for YA fantasy, The Piper's Son in 2010 which was shortlisted for the Qld Premier's Lit Award, NSW Premier's Lit Award, Prime Minister's Literary Awards, CBC awards and longlisted for the Miles Franklin Award. Her follow up to Finnikin, Froi of the Exiles will be released in Australia in October and the US in March 2012.
My introduction to the phenomenon that is Melina Marchetta was not a smooth one. It was not even a respectable introduction. Dammit, my first impression of Jellicoe Road was – what the fuck was happening? Who the fuck are all these people? I had thought this book was going to be another one of those high school coming-of-age cliché novels and I was wholly unprepared when the book flung me headlong into open fire.
I slammed the book close and forgot all about it. I later spied upon it and decided to give it another try, especially since everyone on Goodreads was raving about it. I laboured up to a tenth of the book, at which point I promptly abandoned it again.
I opened the book a third time, determined to understand what the fuck was happening. I read slowly, at a rate of a third of a page per minute. I laboured up to a tenth of the book, was sucked into it by a third of the book, fell in love midway and wept shamelessly at the end, cradling the book against me.
Marchetta writes her characters with a zeal that leaves you breathless. Her books begin with an explosion of characters who don't wait to give you an introduction – the moment you open the book, you've been inserted to a frame in their lives, and it's up to you to make sense of the story they want to say. Her characters ooze life. Even though we're seeing the other characters through the narrator's eyes, somehow Marchetta is able to give us the power to judge the characters ourselves, by showing their many sides. Every time I reach the end, I get overwhelmed by the feeling of love that supersedes every other feeling. She always manages to integrate the unconditional love of blood with the love woven in bonds of friendship. Bonds usually forged in the unlikeliest of places.
My GR reviews of her books that I've read: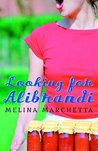 Looking for Alibrandi
by
Melina Marchetta
My rating:
4 of 5 stars
I should have known.
I should have fucking known that this book would tread down the path to breaking my heart with its coming-of-age wisdom and reflections of a seventeen year old girl who tries to fit in but never could. I should have known that Jacob Coote will forever have himself imprinted on me and that John Barton will be that boy whose memory will always make me weep. I should have known that I could never bring myself to hate Michael Andretti and that I would end up feeling sorry for all the Nonna Katias and Marcus Sandfords in this world. And that I will forever worship Christina Alibrandi.
And if I had known all that prior to my reading this book, I probably wouldn't have had to deal with the emotional mess I'm in right now or the splitting headache because of clogged sinuses.
View all my reviews
THERE'S A MOVIE. THERE'S A MOVIE ALREADY. AND I HAVEN'T SEEN IT.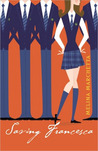 Saving Francesca
by
Melina Marchetta
My rating:
4 of 5 stars
"What did you like best about this book?"

"You mean apart from a plot that sucks you right in, and characters that come off as people with as much depth and as many faces real people do, and how every time I turn a page I have to mentally prepare myself for that feeling like there's something in my eye?"

"Yeah, apart from all that."

"No pretensions. No big words. No trying to wrap something that's raw and honest in beautiful lyrical lines or anything. No trying to come across like something more than it is."
God, I love this book to bits.
View all my reviews
THERE'S A COMPANION NOVEL TO THIS ONE. THAT'S THE NEXT BOOK I'M GOING TO READ.
And there's Jellicoe Road. I've read it twice already. For some reason, I find myself shelving off the inevitable review post on my blog citing lack of enough rereading. For now, I'll sign off this post by saying this book, THIS is my favourite Marchetta ever.